Specification Of Green Ville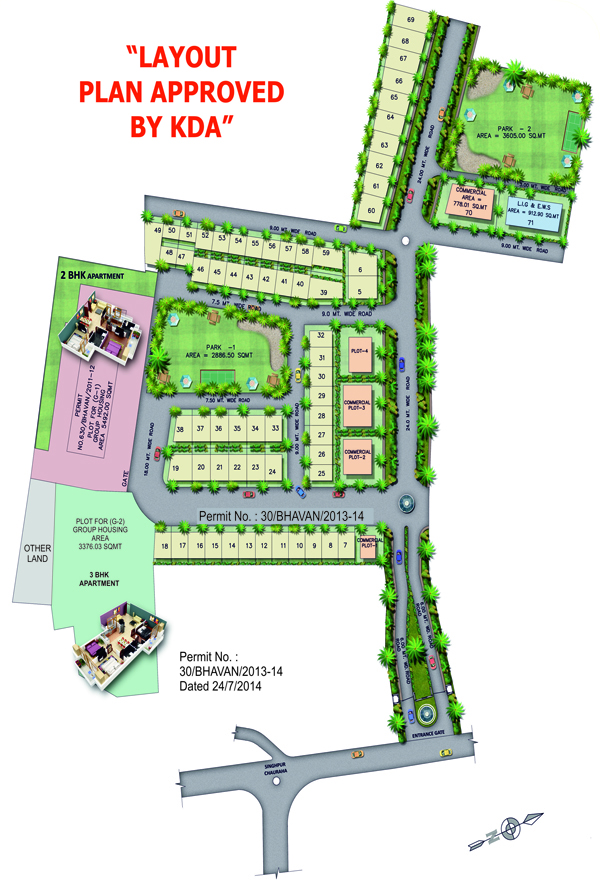 Structure:
Structural, Design of Building by qualified and competent engineer.
M-20 concrete mix(1:1'1/2:3) will be used in all types of R.C.C. work.
Disaster Security:
All posible parameter of design to make building earthquake resistance have been taken care.
RCC wraft foundation has been provided to make structure safe from of earthquake.
Kitchen:
Granite Kitchen Top, Stainless Steel Sink, Glazed Tiles on walls.
Toilets:
All toilet will be furnished as designer's toilet 7' Height wall tiles of matching decor good quality ISI Mark bathroom Fitting.
All the water & sewerage disposable lines will be of PVC, internal lines will be of GI.
Lift:
Electrification:
Best quality(ISI) Cables will be used.
Flooring:
Vitrified tiles(ISI) will be used for flooring.
TYPE-A
AREA SCHEDULE
Name
Size
Area(SQ.FT)
BED ROOM-1
13'x11'
143.0
BED ROOM-2
12'x11'
132.0
WARDROBE-1
3'7''x2'
7.16
WARDROBE-2
4'11/2''x2'
8.24
TOILET-1
7'x6'
42.0
TOILET-2
9'41/2''x 6'
56.22
KITCHEN
7'x11'
77.0
PASSAGE
3'3''x6'
19.50
DRG./DIN.
20'8''x11'
227.26
BALCONY-1
14'1/2''x3'3''
45.63
BALCONY-2
17'0''x3'3''
55.25
BALCONY-3
6'3''x3'3''
20.31
WALLS
83.43
TOTAL
917.00
COMMON AREA
197.14
SUPER BUILT UP AREA
1114.44
TYPE-B
AREA SCHEDULE
Name
Size
Area(SQ.FT)
BED ROOM-1
13'x11'
143.0
BED ROOM-2
12'x11'
132.0
WARDROBE-1
3'7''x2'
7.16
TOILET-1
7'x6'
42.0
TOILET-2
9'41/2''x 6'
56.22
KITCHEN
7'x11'
77.0
PASSAGE
3'3''x6'
19.50
DRG./DIN.
20'8''x11'
227.26
BALCONY-1
14'1/2''x 3'3''
45.63
BALCONY-2
17'0''x3'3''
55.25
BALCONY-3
6'3''x3'3''
20.31
WALLS
81.97
TOTAL
907.30
COMMON AREA
197.14
SUPER BUILT UP AREA
1104.44
TYPE-C
AREA SCHEDULE
Name
Size
Area(SQ.FT)
BED ROOM-1
13'x11'
143.0
BED ROOM-2
12'x11'
132.0
WARDROBE-1
3'7''x2'
7.16
TOILET-1
7'x6'
42.0
TOILET-2
9'41/2''x6'
56.22
KITCHEN
7'x11'
77.0
PASSAGE
3'3''x6'
19.50
DRG./DIN.
20'8''x11'
227.26
BALCONY-1
14'1/2''x 3'3''
45.63
BALCONY-2
17'0''x3'3''
55.25
BALCONY-3
6'3''x3'3''
20.31
WALLS
85.67
TOTAL
911.00
COMMON AREA
197.14
SUPER BUILT UP AREA
1108.14